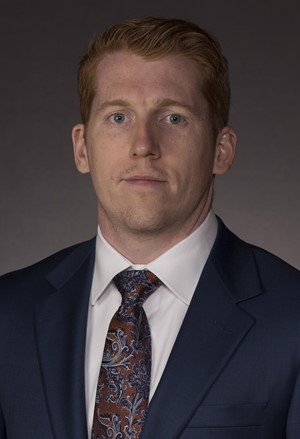 David Carle was named Richard and Kitzia Goodman Head Coach on May 25, 2018, becoming the 9th head coach in the history of the program.
Carle, 28, is the youngest active head coach in NCAA Division I college hockey. The Anchorage, Alaska, native served the previous four and a half seasons as an assistant coach with the Pioneers under Jim Montgomery, joining the program on January 1, 2014, following a season and a half as an assistant coach with the Green Bay Gamblers of the United States Hockey League (USHL).
During his tenure as an assistant coach with the Pioneers, Carle helped Denver to a 115-51-23 record, a 66-32-14-8 mark in the National Collegiate Hockey Conference (NCHC), one (1) NCHC regular-season title, two (2) NCHC Frozen Faceoff titles, five (5) NCAA Tournament appearances, two (2) Frozen Four appearances and the 2017 National Championship. While in Green Bay, Carle helped the Gamblers to a 37-23-4 record, a second-place finish in the USHL's Eastern Conference and a franchise record 15-consecutive wins on home ice.
Prior to joining the Gamblers, Carle served four (4) seasons as a student assistant coach with the Pioneers after being diagnosed with hypertrophic cardiomyopathy, the primary disease of the myocardium muscle of the heart, and being forced to retire from his playing career. Carle graduated from the University of Denver in 2012.
As a player, Carle was a defenseman at Shattuck-St. Mary's (Minn.), helping the Sabres capture back-to-back national titles in 2007 and 2008. He was selected by the Tampa Bay Lightning in the 7th Round of the 2008 NHL Entry Draft and recruited to play at Denver before receiving his diagnosis.